Financial Highlights
The gross revenue of the protocol for Q3 and YTD is as follows:
Q3 Gross revenue from Lending: $ 273,936

Q3 Gross revenue from Liquidations: $ 544,462

Q3 Gross revenue: $ 818,398

YTD Gross revenue from Lending: $ 4,574,249

YTD Gross revenue from Liquidations: $ 1,303,469

YTD Gross revenue: $ 5,877,718
The monthly average supply TVL for Venus Protocol decreased 41% for Q3 from $1.7Bn to $1.0Bn. Borrow TVL decreased by 37% from $585M to $366M. However, because borrow amounts had a lower proportional decrease than supply, the average utilization rate increased from 33.9% to 35.2% in Q3
The protocol also had a 36.4% average growth on new monthly users increasing from 1.1k to 1.5k and bringing the total number of active users to 11k for Q3.
The amount of XVS staked increased dramatically this quarter, from 3.9M to 5.1M. This 26% increase brings the total XVS staked amount to represent 41% of the total circulating supply.
Treasury Liabilities: Markets Shortfall
Number of insolvent accounts: 1619
Total value: $51.33M (as of 24 November 2022)
Denominated In BTC and ETH
Key Q3 Governance Decisions
- VIP-65 Hedgey Finance:
The role of Hedgey Finance will be to advise, provide due diligence, and best practices and expertise as it relates to the various subtasks laid out in this proposal: Venus Proposal: Treasury & Tokenomics Advisor Addition
- Venus Ambassador Program:
Venus Stars, is a program aimed at "Generating adoption of Decentralized Finance, (DeFi) and more specifically in Venus Protocol". It is based on three main areas, education, information and guidance, and each of them has a general objective from which several activities emerge.
- VIP-71 AutoFarm Refund and New Collaboration with Venus:
There was an incident on the Autofarm platform that resulted in a loss of tokens for users leveraging the Autofarm Venus vaults and created a long-lasting issue between the protocols. Venus returned 85% of the affected assets.
- VIP-72 Gauntlet Market Risk Management
Signed Gauntlet Networks risk management services for continuous market risk management to optimize yield, capital efficiency, and mitigate depositor losses.
- VIP-73 Stop collateralizing XVS for some accounts & optimize fees
In VIP-60, we introduced the "collateralizing the rewards" feature that allows anyone to collateralize XVS rewards for accounts with a shortfall. Liquidators could then liquidate these rewards to cover the account's debt. This VIP blocks these accounts from claiming the rewards, even to collateral, until the debt Refinancing solution is launched. (Bonds)
Roadmap for Q4
Launch and evaluate Tokenomics V3
V3 Tokenomics to go into development and effect
Evaluate the success of the tokenomics based on increased protocol usage, and other key KPIs that are observed to determine the effectiveness of the tokenomics
Reduce XVS emissions and incentives
XVS emissions reduction by 50% across all markets (Successfully done in November)
Evaluate impacts to TVL and markets usage
Evaluate impacts to XVS and token holder feedback
Determine whether additional emission reductions are required to achieve desired results
Deployment of the Venus Protocol v4 Upgrade
Isolated Markets Integration
Stable Rate Borrowing
DEX Integration
New Risk Management
VAI Stability Fee
Updated Governance Process
Venus Bonds to cover shortfall
Gross Revenue Report:
(Net Yearly Report will be published by Messari in Q1 2023)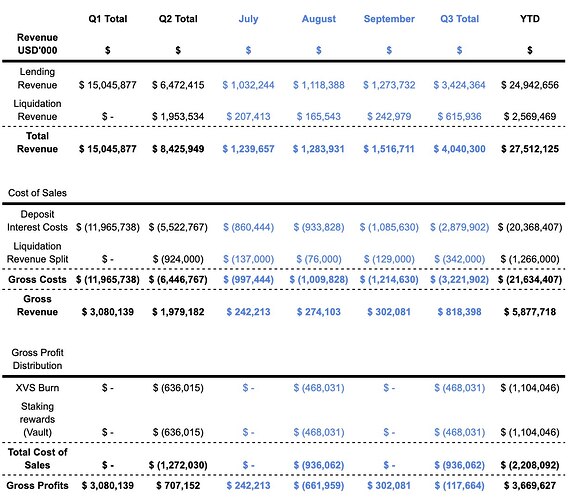 XVS circulating supply:

Protocol Performance