As title mentions.
Largest XVS wallet holder currently has ~800k ($35m) in XVS and borrowing 331k of the 450k borrow cap. That is about 73.7% of the entire cap. This wallet will ultimately gain an unfair share of the XVS rewards DESPITE only providing $8m in BNB supply. Venus protocol will end up being controlled by this wallet if the team or any of the large holders do nothing. (which are mostly insiders anyway)
Wallet address: 0xef044206db68e40520bfa82d45419d498b4bc7bf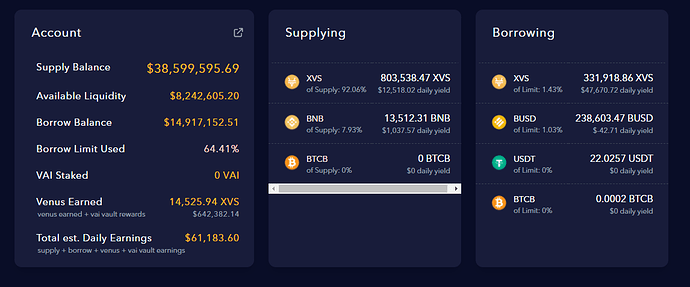 If the proposal to cut rewards for borrowing XVS is not issued by next week as repeatedly requested by the community for multiple weeks, we'll have to dump all XVS and likely turn this into a farm & dump token.
Time to get DeFi newsletters / news sources to publish such warnings to new comers about this.