Hello everyone,
Since this morning, app.venus.io dasboard has been working badly for me. After waking up, I loaded the page only to see that my debt is smaller than it truly is, and that my supply balance is smaller as well. At first I thought I somehow got liquidated, but after checking on Yieldwatch, and looking at the prices I knew that wasn't possible. After many attempts of disconnecting and reconnecting, the real numbers appeared.
Then they disappeared again.
Currently, even though my wallet is connected, and I did a reset of my wallet a couple times, the website is showing me 0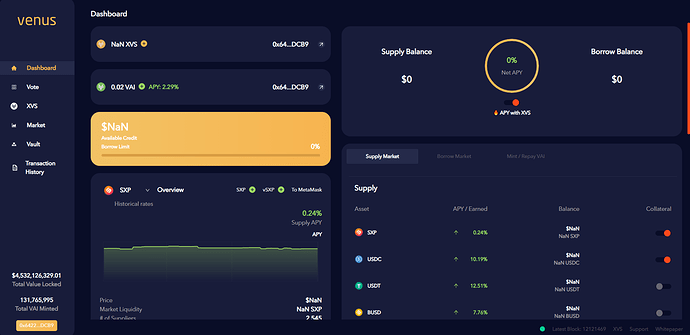 As someone with quite a huge position on this website, I feel like wanting the Front end to work is quite a minimal ask for a project.
Is there anything you can reccomend, or anything you can fix?
I don't want to one day lose my positions due to your website not working