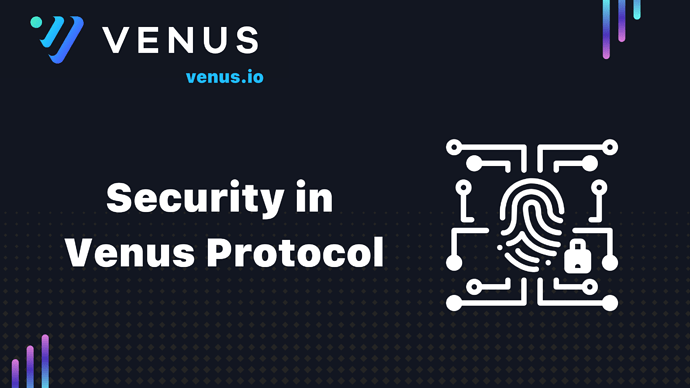 Security in Venus Protocol
(Reading Time: 2 Minutes)
What is DeFi?
Decentralized finance (DeFi) is a service that provides financial transactions by banks and brokerage houses with more flexibility, faster transactions and lower cost, using blockchain-based technology without any intermediary institution.
Venus Protocol
Venus Protocol is a decentralized, algorithmic money market. As of now, Venus Protocol is the largest TVL (Total Value Locked) lending project running on BNBChain. Users can benefit from crypto-backed lending and borrowing solutions without intermediaries, stake the management token XVS in Venus Vault and benefit from high-interest passive income. Furthermore, users also have an active voice by voting on management decisions.
Venus Protocol Security
DeFi applications do not need any intermediaries or arbitrators. A code is determined against any possible problem, and thus users keep the control in their own hands, reducing costs and enabling a system with less hassle. Although these features seem perfect, both user-related and security-related measures are very important.
One of the most important reasons why Venus Protocol is a leader in the blockchain ecosystem it works on is that it has never been hacked. Protocol has been audited by the most important independent security firms in the industry.
https://github.com/peckshield/publications/blob/master/audit_reports/PeckShield-Audit-Report-VenusGrant-v1.0.pdf
Oracle solutions,
Venus Protocol uses oracle solutions to price collateral during both the lending and liquidation processes. Data from Chainlink and Pyth Network ensures Venus always reaches exactly the right market prices. Chainlink and Pyth Network, which has an important place and the most widely used in the industry due to the superior guarantees it provides on data quality, oracle security and network transparency, provide the security, reliability and data quality needed for our rapidly growing ecosystem that already has a TVL of 1.2 billion dollars.
In addition, Venus Protocol has a structure that goes through audits and internal audits by Binance. This shows how strong Venus's unbreakable firewalls are.
Guarantees and Payables
In Venus Protocol, users have to deposit cryptocurrency as collateral to borrow money. Every loan given in Protocol is guaranteed as it is given against collateral. The user must maintain the credit-to-value ratio when borrowing. If it fails to do this, the protocol will liquidate its collateral against its debt. This system protects internal collateral and minimizes risk. Venus Protocol partners with Gauntlet which is one of the industry's leading companies, to optimize capital efficiency and minimize all risks. (https://gauntlet.network/)
Gauntlet provides management services that will optimize capital efficiency. Develops parameter models and simulations to reduce all risks. Collaboration with Gauntlet, the best in the industry in its field, will help Venus Protocol to take firm steps towards the top.
As of now,
5.83 million XVS are locked in the Venus Protocol Vault. (Venus Protocol)
$1.2 billion TVL on Venus Protocol (Venus Protocol)
Thanks for reading.
The Future of DeFi.