Summary
Uquid is the leading Web3 E-commerce platform which aims to offer the best shopping experience for Crypto Users around the world.
Uquid launched in 2017 and is a pioneer in applying DeFi and Web 3.0 to E-commerce. Uquid has supported many blockchain networks including Etherem, BSC, Tron, Near. Allowing users to start shopping by using flexible payment methods: Visa, CryptoCurrency, Binance Pay, Gate Pay,etc. Uquid was a top 3 company worldwide to provide Uquid Card -a cryptocurrency debit card powered by Visa. Today, Uquid is one of the popular E-commerce platforms for Crypto-users to buy the goods.
The proposal aims to develop two purposes for the Venus community. The first one is the $VAI integration as payment method in the Uquid platform means Venus community can use $VAI to purchase goods on Uquid shop. The second is building the Uquid platform on the Venus Website and bringing beneficial influence to Venus by sharing the profit of selling products.
Motivations
Uquid shop is one of the very first and most popular Web3 Ecommerce platforms developing since 2017, with an average 50M monthly volume traffic… In 2022, Uquid has reached 2.26M active users globally.
With the rapid development of the cryptocurrency market, the demand of using digital assets in daily life has been increasing. Uquid is the pioneer in applying DeFi and Web 3.0 to make it a reality. With stablecoin, $VAI integration in the Uquid platform will open the new door to help the Venus community start shopping and boost the huge amount of liquidity for $VAI.
As a result, Uquid are keen to build a long-term relationship with the Venus community, adding $VAI stablecoin as the payment method and building a Uquid shop Web-App on the Venus Community website. (VenusStars.io)
Proposal Rationale:
Able to cope with the trend of crypto shopping
Able to promote $VAI stablecoin - main focus of Venus in this quarter and acquire & convert more users to $VAI
Binance, Gate & Ledger have tested the market of crypto shopping through Binance Pay, Gate Pay, Binance Marketplace & Gate MiniApp and attested for the great traction
According to Binance 2022 Year-in-review:
22 million people using Binance Pay
$48 Billion in Binance Pay transactions
9,000 merchants to use Binance Pay
Over 10 million monthly traffic to Binance Marketplace
Uquid marketplace highlights:
2.5M+ registered customers
50M+ monthly traffic (from Physical Shop: uquid.com; Digital Shop: shop.uquid.com; Mini Apps on Binance Marketplace, Gate.io MiniApp Center & Ledger)
120M+ physical products, 121k+ digital products listed
Best range of products to satisfy any crypto users
Mobile top up services: 180+ countries, 2100+ operators
Provide great benefits for Venus community and ecosystem
Accessible to 2.26 active Crypto users in the world
Start shopping with over 120 million products at competitive prices
Boost the liquidity and adding more utility for $VAI stablecoin
Uquid can provide marketing support and resources to promote the launch of new $VAI on Uquid, thereby spreading more awareness about Venus.
Support to build merchant/vouchers for Venus community and boost the consumption with our users
For marketplace building, Uquid will share the profit based on the revenue through your site.
Development Stages
Stage 1: Integrate stablecoin $VAI as the payment method in Uquid Shop
Expected timeline: 2 weeks ETA

Technical process: Will be done by Uquid's Tech team

Advantages:
Fast & simple integration
Quickly satisfy the demand of $VAItoken holders for crypto shopping
Increase the utilization of of $VAI token
The community can get new token rewards for purchases with $VAI token
Video demo:
Stage 2: Co-organize marketing activities to raise awareness about our collaboration
Marketing budget requirement: $15K in $VAI token (this will be locked in the prize pool and only unlocked after campaign or any expense decided by both sides).

Marketing Activities: Flash deal, Shopping crazy deals, BlackFriday Deals, Cashback, Shopping reward pool, etc

Purpose of using budget:
1.Educate and raise brand awareness of Venus and how to use $VAI to make payments in Uquid
2.Incentive $VAI token for users purchase with $VAI token
3.Gain trust for the Venus community
Note: All the marketing budget will use for incentive program to rewards Venus Community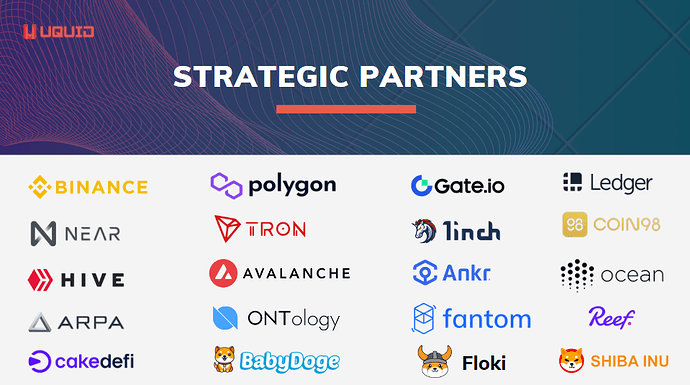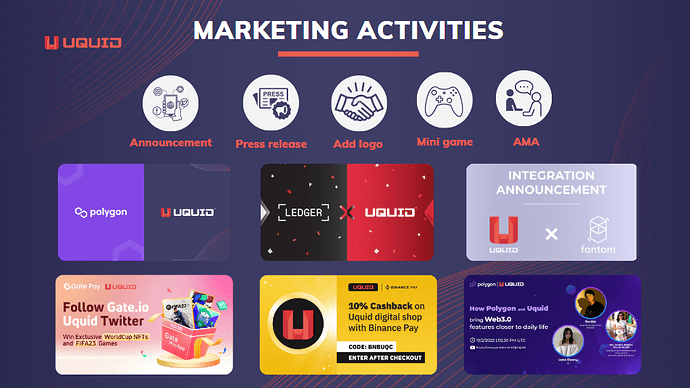 Stage 3: Integrating Uquid Shop (WEBVIEW) to Venus community website (http://venusstars.io/)
Expected timeline: 2-4 weeks ETA

Tech requirement: Minimal effort

Advantages:
Fast & simple integration
Quickly satisfy the demand of Venus users for crypto shopping
Easy to test the demand of Venus user base (of course, we need co-marketing effort here to spread the news)
Revenue model for Venus: Uquid will share the profit based on the revenue through your site.
Uquid Tech Team can deploy fast based on our experience with Ledger
Method: Integrating Payment API to allow Uquid to create invoices and process the payments directly from Venus website

Demo Uquid in third platform: