Add an Isolated Lending Market for $OOE on Venus and OpenOcean swap function API integration
Summary
OpenOcean proposes the addition of $OOE to the Isolated Markets on Venus. Here is the core info on why OOE token will strengthen Venus.
Background:
About OpenOcean
OpenOcean is the leading DEX Aggregator in web3 and crypto. OpenOcean indexes vast liquidity for trades and automatically routes users the best possible trade with the lowest slippage and best final swap returns.
OpenOcean is backed by top investors - Binance Labs, CMS, Kenetic, Altonomy, Multicoin and more. OpenOcean is proud to support over 30+ blockchains and over 300+ Decentralized exchanges and liquidity pools.
All of our contracts have been successfully audited with CertiK.
About OOE
OOE is a native BEP-20 token which is listed on major centralized exchanges like Kucoin, Gate.io, MEXC, etc.
Benefits:
It's a lucrative opportunity for OOE holders as they can add OOE tokens as collateral to the Isolated Markets on Venus and let other users borrow OOE. In this way, users will be able to earn with a decent APY instead of being passive holders.
Borrowers, in turn, can explore a range of exclusive offers on the OpenOcean platform such as:
Liquidity and trade mining incentives
33% of the total OOE token distribution is allocated to liquidity and trade mining rewards to distribute the token fairly, incentivize liquidity providers.
Trading fee
OOE can be used as trading fee for derivative trading. OOE stakers in derivatives can earn 20% fee rebate in derivative trading. OOE will be further developed for gas fee for swap trading.
DAO Governance
OOE holders can participate in OpenOcean governance by stake OOE to earn xOOE and vote with xOOE.
Incentives:
OpenOcean will be providing OOE token incentives to increase rewards and bring more users to the Venus Platform.
Seed liquidity: $10,000 in OOE
Incentive rewards for users: $3000 in OOE
Incentive rewards distribution: $3000 in OOE for 30 days
Specifications:
Token Address: 0x8ea5219a16c2dbf1d6335a6aa0c6bd45c50347c5
Market cap: $5.2M
OpenOcean swap function API integration
Summary
OpenOcean proposes Venus to switch all swap functions by using OpenOcean aggregator swap API.
Benefits:
Compared to what Venus is utilizing right now with the Pancake swap function API, which is only 1 liquidity source, OpenOcean aggregated 53 liquidity sources from the BNB chain. Plus, with OpenOcean's intelligent routing algorithm (screenshot shown below), OpenOcean guaranteed Venus user better pricing than Pancake swap (price comparison shown below)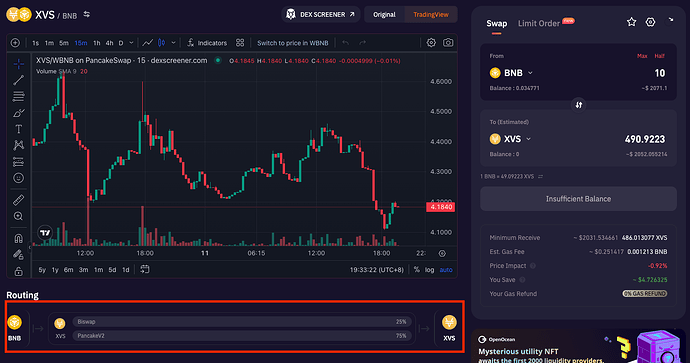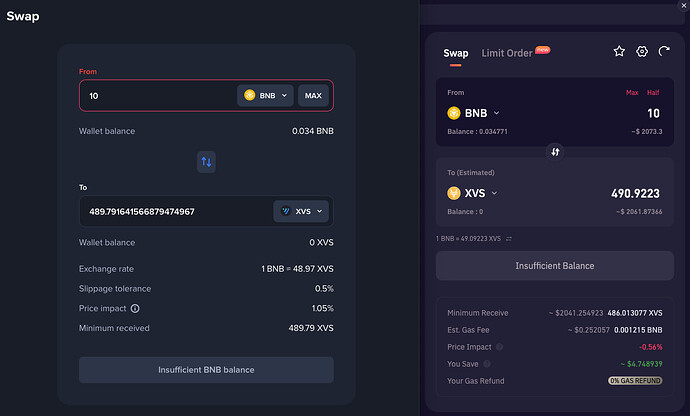 Incentives:
OpenOcean will share 50% of positive slippage that generated from volume that referred by Venus.
Revenue Model
Additional Information:
Social Media: